Name:
Puff
Race:
Magical Dragon
Appearance: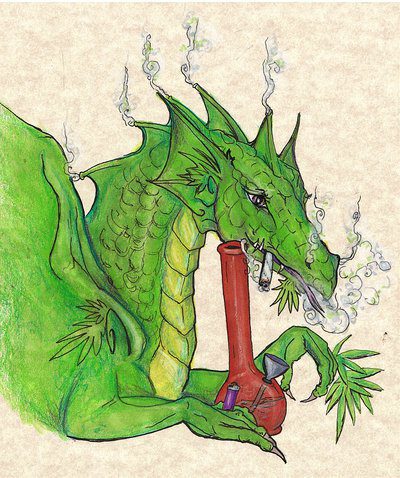 Puff is a gigantic dragon of two hundred fifty meters in length and several tens of thousands of tons in weight.
Special Abilities:
The Back Door of the Mystery Machine
- as a passive ability due to how much ganja Puff tokes anyone around him not used to this exact potent strain(must do three topics with Roland or be Roland) will recieve a -1 to their reaction speed, and thought speed if they are within 500 meters of him.
Inferno
- Puff may change his body completely into flame at a cost of an S rank worth of chakra, during this he will be considered incorporeal for the purposes of getting hit and he will burn at a power of his Chakra Capacity, this is done at a speed of his reaction speed. It lasts for a total of eight posts before needing a cool down of fifteen.
Flame On
- While around Puff will raise the power of all allied fire based attacks or defenses by one rank.
Heat Stroke
- For a cost of a B rank jutsu Puff may cause anyone within thirty meters to promptly have the temperature raised around them. Unless the enemy has a way to compensate for the heat they will begin to slowly cook. Puff may move the area of the raised temperature if he is concentrating, but the area cannot be more than five square feet on the base upon which the target stands. This raises the temperature by a power rating of B for the first, A for the second, S for the third and so on requiring a cool down of the amount of turns used + 4. Unless the target has armor expressly saying it repels heat then Armor is NOT factored in to the health needed to resist it's melting effects(65).
Hydrogen Cooker
- Using Heat Stroke Puff will keep heat and pressure on a small amount of hydrogen particles in the air, heating them until they explode causing damage to an enemy. It has a cost of an S rank and a four post cool down. It has a power of S.
Dragonlepethy
- allows them to communicate through human speech telepathically with anyone up to 30 meters away, anyone they have met before up to 1 mile away and communicate with their Dragon Slayer up to 2 miles away. This ability can be used to link multiple people to communicate telepathically through the dragon within a 50 meter range of everyone linked this way.
Passive Abilities:
Flying
Fire Resistance
Ability to Eat Fire
Grows Marijuana naturally
Mental Intrusion Resistant
(S)Physical:
(A)-Strength- Power of physical attacks, how much they can lift and how much they can understandably carry.
(S)-Locomotive Speed- Used to determine how fast someone can attack, run or throw.
(A)-Reaction Speed- Used to determine how they react to attacks, movement of limbs in a stationary position and such.
(S)-Health- Used to determine how many hits one can take.
(A)Mental:
(A)-Thought Speed- Used to determine the speed of the user's thought, this is like reaction but for planning.
(B)-Jutsu Knowledge- Used to determine how many highest rank jutsu you can use(Rank above you)
(A)-Willpower- Used to resist mental attacks/effects
(B)-Mental Sharpness- Used to determine power of mental attacks/effects
(S)Chakra:
(S)-Chakra Capacity- Used to determine how many jutsus user can cast
(A)-Sealing and Spacial/Time- Used to determine how fast jutsus of this kind are activated/speed/power.
(A)-Medical and Physical Enhancement-
(A)-Ninjutsu and Kinjutsu-
(S)-Poisons and Puppetry-