Name:
Flash Rupture
Rank:
B rank
Jutsu Type:
Weaponry
Element: Duration/Cooldown:
1 post / 3 posts
Range:
5 /10 / 20 meters
Appearance: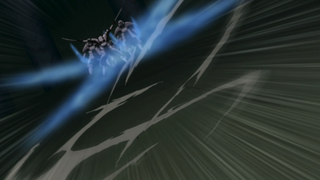 What it does:
the user Channels their chakra around their blade and by sweeping their blade they can release a sharp crescent of chakra in the arc that the blade was swung. The user has to determine the range of the attack as they have to channel their attack properly. to close and the attack loses sharpness as the blade has yet to form, to far and the blade doesn't even reach them.
at a closer range the blade is much more destructive but at a longer range the blade loses power but grows in length.
5 meters slash blade length is 1 meter long and has a sharpness of B rank
10 meters slash blade length is 5 meters long and has a sharpness of C rank
20 meters slash blade length is 10 meters long and has a sharpness of D rank
Costs 1 B rank chakra per post
Wordcount to learn:
2000
Bonus Requirements:
must have Chakra Infusion and Flying Sparrow
Backstory:
______________________________________________________
Stats