Name:
Earth Release: Antlion Technique
Rank:
S
Jutsu Type:
Ninjutsu
Element:
Earth
Duration/Cooldown:
4 posts suction lasts /Once per topic, Change is permanent to the scene
Appearance: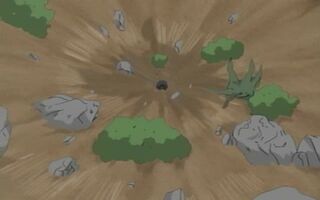 What it does:
This technique causes the ground and everything on and around it to be sucked in towards the middle of a large pit, much like the method an antlion uses to catch prey. Upon being dragged to the center, the victim will then be sucked underground. There the victim, depending on how deep the user makes them sink, will be trapped and/or suffocated. The range of the pit is determined by how much chakra is put into the technique.
The user retreats underground to create a sand pit trap at their location and pulls everything on the ground to the center and then underground (including vegetation and terrain, buildings and structures with sound foundation are unaffected restricting the range of the jutsu in that direction.  It is assumed that all village structures have a firm foundation).  Anyone with strength greater than the power may resist the pull.  Anyone caught on the ground in the jutsu must have a higher strength than the jutsu to jump or pull one's self out of the shifting soil.  Anyone with a health less than the power will die immediately after being sucked under.  Anyone else goes unconscious after 2 posts and dies at the end of the topic if not rescued. If they are rescued they remain unconscious for the rest of the post.
Anything pulled into the pit if Pulverised into Sand, Excluding living people, they are just suffocated as previously mentioned, Range of this Jutsu is 100 meters
Wordcount to learn:
3500
Bonus Requirements:
Earth element. Must know a technique that let's the user move freely through the earth such as hiding like a mole
(add if it is meant for a specific character here)
Backstory: