Name:
Spider Web Area
Rank:
B
Jutsu Type:
Ninjutsu
Element:
N/A
Duration/Cooldown:
Duration of up to 10 post, cool down of 8
Range:
up to 20 meters B rank, Up to 40 meteres if will to spend A rank chakra
Appearance: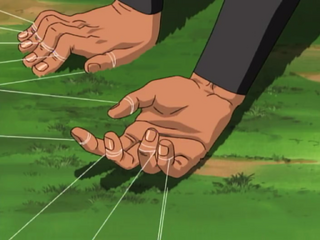 What it does:
Kidōmaru can send chakra through his spider webs to instantly detect the approach of any enemies foolish enough to touch it. These threads spread in all directions and are so sensitive, that not even the slightest disturbance of the air goes unnoticed. Additionally, the threads are so thin, they can hardly be seen, yet they are stronger than steel wires. This technique is especially useful in enemy territory when Kidōmaru needs to rest while still remaining on guard.
When ever performing this jutsu it will always produce threads in counts of 10.
It also requires D rank chakra per posts. In order to maintain. due to having to focus on every slight touch upon the web. These threads can be spread out of a 20 meter area around where the user wishes to maintain from. If the user is willing to put A rank chakra into it they can double the thread length but this also increase the chakra cost per post to C rank.
Wordcount to learn:
2000
Bonus Requirements:
Nayk Clan
(add if it is meant for a specific character here)
Backstory: