Name:
Spider Bind
Rank:
C
Jutsu Type:
Ninjutsu
Element:
N/A
Duration/Cooldown:
3/4
Range:
10 M
Appearance: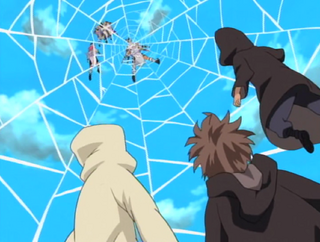 What it does:
After gathering his spider webbing into his mouth, Kidōmaru spits it out into a wide web pattern. This web can envelop his foes and tie them down to a nearby surface. Chakra is constantly flowing through the web making it difficult to escape from.
Chakra capacity rank - C
Resistant rank of strength - B
Chakra cost per post - None. The web is formed with the chakra inside it. Once this chakra is placed there by the user they are no longer attached to the web.
Dimensions, the web shoots out into a 7 meters across circular shape for a max length of 8 meters before the user disconnects.
Wordcount to learn:
1000
Bonus Requirements:
Nayk Clan
(add if it is meant for a specific character here)
Backstory: