Name:
Spider Cocoon
Rank:
B
Jutsu Type:
Ninjutsu
Element:
N/A
Duration/Cooldown:
duration - 4 posts,  if no escape happens chakara will fad allowing the web to disintegrate after 8 posts
Range:
10 meters
Appearance: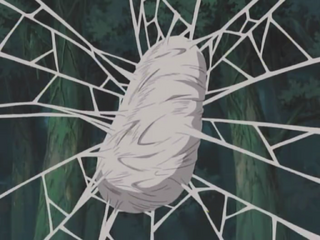 What it does:
This technique makes a cocoon of web around the opponent, immobilising him and leaving him open for other techniques. The stickiness comes from Kidōmaru mixing his chakra with his body fluid. The technique is so refined, that even after having left his body, his chakra will still continue to flow through the thread to hold his opponent in place.
chakra capacity rank - B
resistance rank of strength - A
Chakra cost per post - None. The web is formed with the chakra inside it. Once this chakra is placed there by the user they are no longer attached to the web.
Wordcount to learn:
2000
Bonus Requirements:
Nayk Clan
(add if it is meant for a specific character here)
Backstory: