Name:
Spider Web Unrolling
Rank:
C
Jutsu Type:
Ninjutsu
Element:
N/A
Duration/Cooldown:
4 posts duration/5posts CD
Range:
15 meters
Appearance: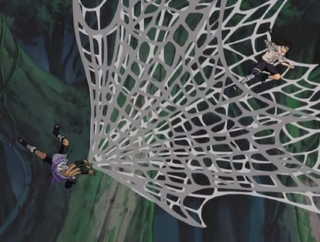 What it does:
A web that captures and contains all enemies attacking from the front. Kidōmaru catches his enemy off guard by releasing it while in the air. By swiftly spreading the ball of thread with his six "legs" the web covers a wide area. The chakra imbued threads cannot be cut by even a dagger. The sticky and elastic threads are so strong that even an elephant pulling each end would not break them. The enemy is unable to budge a muscle, let alone fight back. Once captured, their fate is in the hands of Kidōmaru. Also, according to Kidōmaru, it can hold more than five tons.
5 meters across in s circular patter once unrolled with a 1-2 meter deep cone in the middle. The ball of web is about the size of a basketball.
chakra capacity rank - C
resistance rank of strength - B
Chakra cost per post - None. The web is formed with the chakra inside it. Once this chakra is placed there by the user they are no longer attached to the web.
Wordcount to learn:
1000
Bonus Requirements:
Nayk Clan
(add if it is meant for a specific character here)
Backstory: