Name:
Doku Doku no Mi: Red Variant-Snakes Bloody Fang
Rank:
A
Jutsu Type:
Devil Fruit Ability
Element:
Poison
Duration/Cooldown:
2/3
Range:
40m
Appearance:
Snakes Bloody Fang: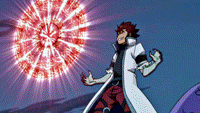 What it does:
Snakes Bloody Fang: This move allows the wielder to exhale a solid red and black like snake head with fangs wide open.  The dimensions are about 20m in height and can reach a range of 40m before dissipating into a poison mist that only does damage of B rank Health to anyone of B rank health or lower provided they are in range of the poison.  The speed of the Snake fangs are A as well as the Strength. When the snake fangs connect with the target it will close it's fangs into the target before bursting and releasing toxins that boil the targets blood. This drops the opponents Willpower by 1, Strength by 1, and Reaction speed by 2. Way to avoid this is if they have health equal to or larger than A. A rank chakra capacity to use. This had a cool down of 3 and a 2 post duration if poison connects.
Wordcount to learn:
3000
Bonus Requirements:
Doku Doku no Mi:Red Variant Skill
Backstory:
The voice spoke  to Yahiko of great power that equaled that of his thoughts of destruction through his veins.  After fighting the fish mongrel he unlocked a skill which he would call the red varient which took the poison he produced and made it red and black in color as well as increasing it's power.
______________________________________________________
"I'm simply bored, why not start a war?"