Name:
Muscle and Joint Control
Appearance:
The Apperance of this skills varies upon what the user seemingly is using the technique for and or what body part the seemingly are controlling the muscles and or joints within… However, an example of this skill would be…
Claws: One of the several assassination arts Brink picked up while in the wild so not to reveal his ghoul nature, consists in adjusting the anatomy of his hand- His fingernail turn into claws that are sharper than knives, with which Brink can sever a limb, a head or even rip out an heart with frightening ease these having the sharpness of the users Strength as they are just a part of his body and the nails having a health ranking equal to that of the users health.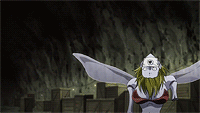 What it does:
Brink can dislodge his joints at will and in the blink of an eye, an ability that enables him to escape from most ties. An instance is given when he dislodged his shoulders, elbows, wrists and fingers to free himself from the ropes of which bound him in his torture arc. This allows him to increase his muscle tension to that of his health rank making it very difficult for blades to cut him and or bullets to pierce his skin.
Wordcount:
3,000
Chakra Cost:
N/A
Bonus Requirements:
Learn from Brink
Backstory:
N/A
______________________________________________________