Name:
Dance of the Clemantis: Flower
Rank:
A-Rank
Jutsu Type:
Taijutsu
Element:
Duration/Cooldown:
1/2
Range:
Self
Increases Health, Strength, and Locomotive Speed by +1
Appearance:
The user forms a drill-like lance around their entire form arm, before charging forward.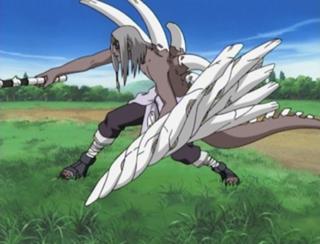 What it does:
The
Dance of the Clematis: Flower
is a technique that can only be used by members of the Kaguya Clan. This technique is usually a follow-up of the Dane of the Clematis: Vine. The user's entire forearm is entirely encased in a giant drill made of bone to attack an immobilized target. The bone is strengthened (through compression and its plaited spiral shape) to become the hardest type of bone the body can produce. The bone resembles a flower, hence the name.
Increases Health, Strength, and Locomotive Speed by +1
Wordcount to learn:
3000
Bonus Requirements:
Shikotsumyaku