Name:
Earth Grudge Fear
Rank:
SS
Jutsu Type:
Ninjutsu, Kinjutsu
Element: Duration/Cooldown:
This is active at all times.
Range:
See description
Base Power:
See description
Base Speed:
See description
Appearance: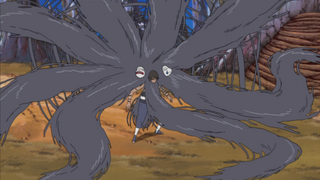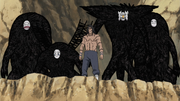 What it does:
wiki::
The User is forever changed when learning this technique. Their body is held together and manipulated through the control of hundreds or thousands of black threads. This allows them to survive almost any attack as they are capable of simply stitching themselves back together. As the wiki says the threads even repair muscles and nerves allowing immediate use of the limbs.
The user is also able to separate parts of their body and manipulate them with the threads or just manipulate the threads themselves. THE THREADS HAVE NO NATURAL SHARPNESS. A seperated jutsu must be made to give the threads sharpness. This does not increase the users stats at all but the range of the manipulation is up to 5 meters.
Organs and other things can be harvested to replace old ones and to extend the users life, but the heart of the opponent is what gives a bonus to the user. By stealing a players heart and assimilating it into the body the user is able to use ONE element that player had, even advanced and clan specific elements. The users body can maintain 5 hearts. Their own as well as 4 others. the extra hearts take on a mask and are positioned on the users back. Should the user need to use one of the hearts other than their own, such as their own is destroyed, they can assimilate one of the other hearts losing that hearts element and shattering it's mask. The only way to kill the user is to destroy all it's hearts.
Heart beast constructs will be a separate jutsu.
Wordcount to learn:
5000
Chakra Cost:
none. the other abilities of the EGF will be made as seperate jutsu
Bonus Requirements:
Complete the kinjutsu mission and claim on the limited list.
Backstory:
______________________________________________________
"Do not concern yourself with my origin, my race, or my ancestry. Seek my record in the pits, and then make your wager."