Name:
Kamui 
Element:
N/A 
Rank:
SS 
Jutsu Type:
Space Time 
Backstory:
N/A 
Appearance: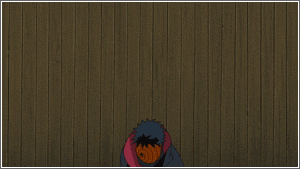 Handseals:
N/A 
Duration:
Explained below 
Cooldown:
explained below 
Range:
 N/A 
Power:
N/A 
Speed:
N/A 
Health:
 N/A 
Stat Boosts:
N/A 
What it does:
Kamui is a demension and abilities that interact with it.
Space-Time Dimension:
The user gains access to the pocket dimension in which they can make their own base if they choose, this dimension they can travel to and from with their teleportation rules.  The dimension looks like an endless black background space, pillars seem to make up the floor, and in some cases walls.
Right Eye:
Contact Teleportation:
The user has the ability to teleport in a swirled animation, this teleportation is not instant however, the user teleporting at SS speed. The user may teleport with others with them if they gain physical contact, but they can only be transported at S speed, giving them the chance to break away from them. (Swirl will start giving a signal that something is happening, and if they move faster and break away they can avoid being teleported).  The user can teleport to any location they have been to before, or within 1 meter of a memorized chakra point. Teleporting yourself costs D chakra cost, it goes up to C per person you wish to teleport someone with you.  The user is incapable of teleporting to a location that is occupied nor can they teleport others into occupied spaces.
Intangibility:
When activated, any part of the user's body that overlaps with a solid object is seamlessly warped to the other dimension, making it appear as though the user is phasing through them. This ability can dodge most attacks, and by overlapping their entire body into large objects, the user can completely conceal their presence while temporarily erasing all traces of their chakra. This ability can also be used to travel through the ground.  This also allows the user to pass through even the most powerful barriers.  The user can make part, or all of their body intangible, this has a cooldown of 2x the posts maintained, costs C chakra per post to maintain. This occurs at the users reaction time to become intangible.  The user can not attack or cast jutsu while any of their body is intangible.
Left Eye:
Long Range Teleport:
By focusing to create a barrier space and concentrating on the target within, Kamui will distort space and the target will be drawn into the other dimension.  Within their field of vision, the user can either teleport what they see into their dimension, or teleport what's in their dimension out.  By looking at a construct, it will start to blur, a delay occurring before the construct vanishes at S speed going into the realm.  The teleportation can be so fine it can be focused on small parts of the body such as an arm, or the targets eyes, if used on a focused point it will be torn from the users body.To teleport things from the realm it functions in a similar fashion, a blurred space will appear and then after a delay the user can launch a single projectile stored in their realm, from it at S speed.  Releasing people from the realm can be done freely.  Both uses cost C chakra each.
Both eyes:
Portal:
The user can create a portal in their line of sight that can connect two dimensions. Doing this, however, requires a tremendous amount of chakra and places significant strain on the user's eyes, causing both to bleed.  The potal will be limited to the size of a doorway (6'5 tall 3 wide)
Augmentation:
The most powerful ability of the Kamui Jutsu is when using them in conjucture with each other. using both eyes allows the abilities to be augmented. Through both eyes, the user can create two distortions at the same time.  As well as be able to attack while intangible.  Also the speed of all Kamui abilities are increased by one rank and the chakra costs go down 1 rank  however when using any techniques utiziling both eyes it gives twice as many blindness counters. But if you have the Eternal Mangekyo Sharingan you will not go blind
Note:
Kamui counts as all 3 MS techniques that a Sharingan user can learn with their eyes. Unless you trade eyes with someone else who has MS at which point you can then learn their MS techs. 
Character Specific:
N/A 
Wordcount to learn:
5,000 words + 3,000 to utilize both eyes 
Chakra Cost:
Explained above 
Bonus Requirements:
Claim on the limited list and have the appropriate Mangekyo Sharingan